8-Frame Hive Complete Includes top,
hive body, bottom board, & 8 frames (no wax)
$150
FBM 8 Frame Hive & Super ePlan
$4.99

---


8-Frame Hive from Poplar
Can be beautifully finished with polyurethane
if your hive is on display in a garden etc.
Includes same pieces as above Hive box.
Other hardwoods often available
$200

---


Deep Hive box
$25
---

Super Hive box
$15
---

FatBeeMan Ross Round Box
$15
FBM Ross Round DIY ePlan
This box sells for $50 on some big name websites!
Don't get ripped off, build your own!
$7.99

---

Bottom Board
$10
---

Outer Lid
No metal cover
$10
---

Frames
4 staples on top and 2 on bottom.
These frames will not come apart.
$2.00 each assembled
---

The Fat Bee Man No-Drown Hive Top Feeder
Now includes tips video
$25
FBM 5 Frame No Drown Feeder DIY ePlan
$7.99

FBM 8 & 10 Frame No Drown Feeder DIY ePlans
$7.99

---

The Popular FatBeeMan No-Drown Hive Top Feeder
New double bowl option shown
$30
---

The FatBeeMan Entrance Feeder
$10
FBM Entrance Feeder DIY ePlan
$1.99

---

The FatBeeMan Baby Nuc Box
$35
FBM Baby Nuc Box DIY ePlan
$4.99

---

The FatBeeMan 5-Frame Nuc Box
Your choice of medium or deep nuc boxes
$45
FBM 5-frame Nuc Box DIY ePlan
$3.99

---

Mite Treatment Frame
Treat Varroa Mites with this frame
$25
FBM Mite Treatment frame DIY ePlan
$3.99

---

Beetle Trap
Simple Don K. invented device to
organically control the hive beetle.
$2
---

Queen Lure / Swarm Attractant
1 bottle pure queen lure 1/2 oz. contains
1 queen along with swarm attractant
$25 shipping included
---

FatBeeMan Queen Timing box
$50
FBM Queen Timing box DIY ePlan
$9.99

---

E's Dual Hive & Quad Hive Stands ePlan
Very sturdy design that holds a LOT of weight. No chance of screws or nails being sheered off under the weight of full hives.
$2.99


Fat Bee Man E-plan Bundle
Get all the following 11 ePlans at a 35% Discount!!
Ross Round Box
No Drown Hive Top Feeder (5 & 8 frame) – Original
No Drown Hive Top Feeder (5 frame) – New & Improved
No Drown Hive Top Feeder (8 & 10 frame) – New & Improved
Entrance Feeder
Baby Nuc Box
5 Frame Nuc Box
8 Frame Nuc Box
Queen Timing Box
Mite Treatment Frame
E's Dual & Quad Hive Stands
$34.99
---

Wax Mills
Press your own foundation using your own wax!
Metal $2,000
Plastic $1,300
---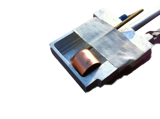 Oxalic Acid Vaporizer
Custom product made in Georgia to Don K's specifications.
This device uses 12 volt battery to vaporize Oxalic Acid.
This is an organic and safe method to control mites.
Includes measuring cup.
Don can be seen using this device in his videos.
This equipment is warranted for one
year against manufacturers defect.
A free class comes with the purchase
of this device given by Don K himself.
$175
---
Prices quoted are for Pick Up at Don's Bee Yard in Lula, Georgia
Please call or email Don for quantity pricing & shipping details.
Don will send an email and you can pay through PayPal.

Contact Information:
Don Kuchenmeister
292 Ashley Brook Dr.
Lula, GA 30554
(706) 677-3502
For DVD and E-plan sales questions ONLY (nothing about bee sales),
Please contact the webmaster;
Eliazara@clarencehollow.com